As a WooCommerce merchant, any sort of shipping delay is not your friend when it comes to keeping happy customers.
It may happen due to an internal error, but more often than not lately, it's due to circumstances that are genuinely out of your control. Ecommerce analysts reported more than two years of growth crammed into ecommerce sales in just one year, largely thanks to the effects of the pandemic.
To top that off, shipping infrastructure across all carriers has been stretched due to a combination of reasons. There have been staffing shortages, unprecedented demand and, in the case of USPS, cuts made to resources that have put them under further pressure. To top that off, there have been delays with inventory, including a massive ship blocking the Suez Canal!
For both merchants and customers, it's a frustrating situation. You want to be able to give your best service, and your customers just want their packages on time! Can you deal with shipping delays and still keep customers happy? Here are some of our thoughts on the issue:
Free download: Tips to get repeat business (even with shipping delays
The real cost of shipping delays
Part of the nature of ecommerce sales is that the transaction isn't finished as soon as the customer pays – it ends with the delivery of their product. One thing that multiple ecommerce studies have found is that customers often don't blame the shipping carrier, they blame the retailer for the delay, and naturally, retailers can feel the repercussions.
Ultimately, the worst thing that can happen is that you lose customers over the delay. In fact (depending on the source of the research), somewhere between 65% and 75% of customers won't make a repeat purchase with a retailer if their package didn't arrive within two days of the expected delivery date.
When you consider your acquisition costs to get customers (such as your marketing spend), losing customers in this way can be an expensive exercise. If you don't know your customer acquisition cost (or CAC), a simple formula is to look at your total marketing spend over a certain period and divide by the new customers attained over that same period.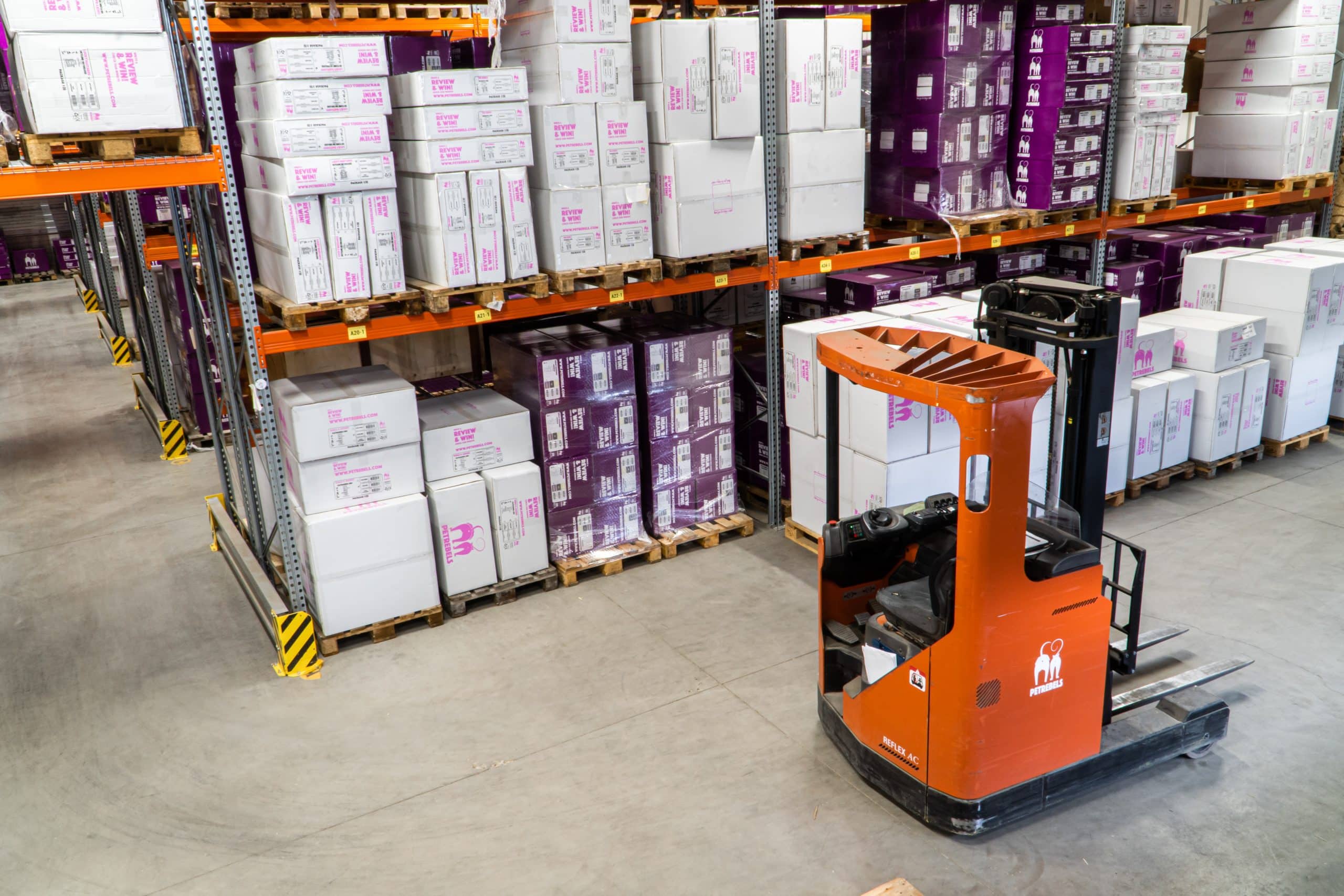 Besides losing the customer altogether, you might find yourself dealing with disputed transactions, especially if the package is very late. These are a hazard for merchants in that they can be costly if found in favor of the customer. Apart from disputed transactions, there may also be costs associated with anything you decide to do as a "good will" gesture for impacted customers.
Of course one thing that is difficult to calculate is potential damage to your reputation. As a business, you face a huge amount of competition online and if word gets out (such as through poor reviews), it may be enough to turn off potential new customers.
The real cost of shipping delays can be huge for WooCommerce merchants – is there anything you can do about it?
Don't lose your ecommerce customers over shipping delays - be proactive with communication
Click To Tweet
Offer multiple shipping options
Giving customers choices, including the carrier they wish to use can be helpful. People know what's happening in their own area – maybe one carrier has proven to be more reliable than another.
When people have the options to choose, they can select based on more than just price. This gives them some sense of control over shipping choices. WooCommerce has plugins with tools such as ShipStation, which allows you to set up with multiple shipping carriers.
Offer free shipping
Free shipping can help to lower customer expectations in terms of the speed of the shipping. In general, customers won't expect delivery within a couple of days if they haven't paid for shipping. If they're in the habit of shopping with small businesses online, they'll also be used to having to wait a few days. Knowing your customers and what they expect is important, and with this knowledge, you should still seek to get orders out as quickly as possible.
Set expectations clearly
One of the most important things ecommerce merchants can do is be clear about expectations. It tends to be a poor experience for customers, shipping delay or not, if they place an order but get no acknowledgement that includes setting shipping expectations.
This should be a minimum – every order should get an acknowledgement email that lets them know when they can expect their purchase to be shipped. Even before the sale, make sure shipping duration is made clear along with shipping options. Many merchants have found they need to lean on the conservative side at the moment: where they might have said five to seven days for standard shipping previously, they're often now saying six to ten days.
Communicate promptly
If you find that shipping is going to be delayed beyond any communicated expectations, the best thing you can do is make contact with the customer as soon as possible. It's okay to let them know that the shipping carrier has reported a delay, as shown in the email from Home Depot below: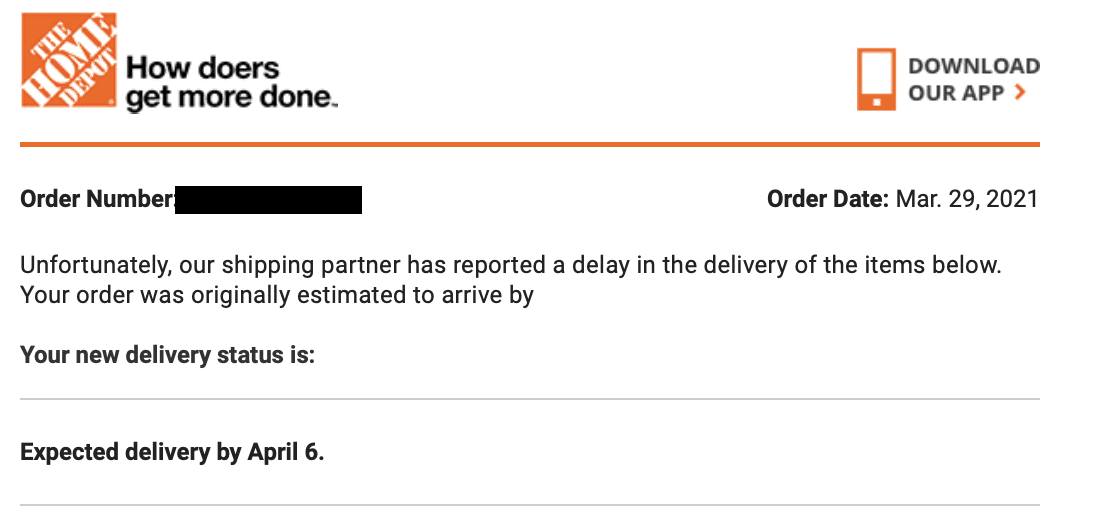 You don't need to go into anything elaborate or any sort of excuses. Simply report the delay and give a new estimate for delivery. Be sure to apologize for the delay and show the customer how they can contact you if they have any concerns.
Always give tracking information
One of the issues that can turn customers off ecommerce stores is when they have no quick way of getting updates and information on their order. Even without delays, this is frustrating, but with shipping delays, it can seem like the order is never coming.
Having a shipping method that keeps both you and the customer in the loop with tracking the order is key. When customers have the ability to track the item for themselves, they tend to be more satisfied that you've done what you can. This can also save you from a bunch of "where's my stuff?" emails!
Get our tips for generating repeat business despite shipping delays here
Optimize your fulfillment
Obviously, the faster orders are able to be fulfilled and shipped out, the better for the customer experience. If you are a small operation, that will mean optimizing the space you have to fulfill orders. Keep it well organized so that inventory is easy to find and needed packaging is quickly available. Automated printing of invoices and shipping labels using a good shipping software will also help.
If you're a bigger operation, many business owners are turning to alternative methods of fulfillment. For example, they might have inventory strategically placed in warehouses in different parts of the country, meaning that the closest warehouse to the customer can fulfill the order. It's one way to get around the frequent shipping delays.
Make use of offers
Sometimes you need to try and generate a bit of good will to help ease the frustrations of customers with delayed packages. This may be where an offer can work in your favor.
For example, you might email customers a special coupon code offering them a percentage off their next order. If a customer is really put out and complaining, you might offer a partial refund or send them a free gift.
It might cost you a little money (and if the budget is tight, a coupon offer might be your best bet). For many ecommerce merchants though, the cost of acquiring customers is far greater and it's better to avoid any potential fallout from negative reviews.
Final thoughts
Shipping delays are a common hazard for WooCommerce merchants, although it's fair to say they've become even more prevalent recently! It's especially painful if those delays lead to losing customer business.
The best thing merchants can do is be communicative with customers. Provide them with the means to track and be proactive about letting them know of any delays. People do tend to be a bit more forgiving if you come to them first!