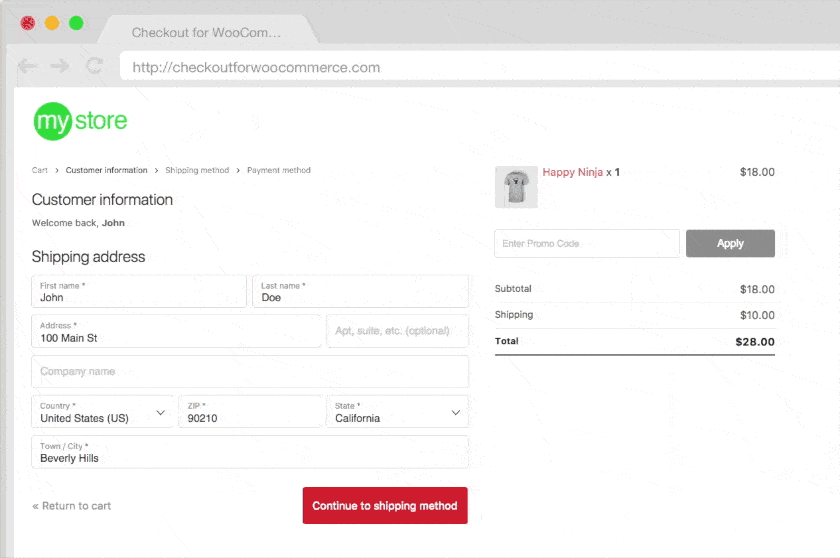 Finally, an awesome checkout experience for WooCommerce.
Replace your WooCommerce checkout with a beautiful, responsive, and conversion focused design. Works with every theme.
How Checkout for WooCommerce will increase your sales
If you are not optimizing your checkout experience, you could be losing 30% of your customers. Increase your sales with a well-designed and optimized checkout experience. Checkout for WooCommerce is a one-click solution that will capture more of those lost sales. Simply install and let your customers purchase with less friction.
A one-click solution, beautifully designed
Checkout for WooCommerce is a no hassle solution for a seamless checkout experience. No configuration or coding knowledge required.
Optimized for conversions
Checkout for WooCommerce boosts conversions by streamlining the complex checkout and payment processing process.
Perfectly adaptable
Checkout for WooCommerce is fully responsive and works with all WordPress themes out of the box.
Buy now and increase sales by the
thousands
If you are not optimizing your checkout experience, you are losing about 30% of your customers. Boost your sales with our beautiful, responsive, and conversion focused checkout experience.
Revolutionize your checkout experience
Checkout for WooCommerce is uniquely designed to improve the WooCommerce checkout experience. We will decrease cart abandonment and increase conversions for your WooCommerce store.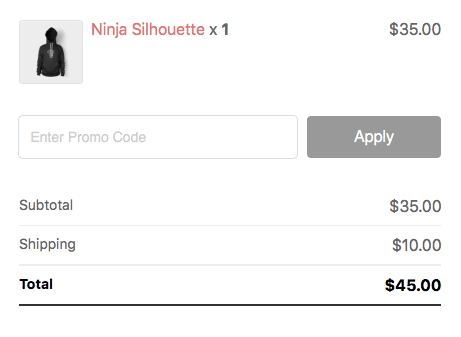 Avoid user frustration and distrust
61% of online customers consider leaving checkout when you're not upfront with product costs. In fact, according to research, unexpected costs charged at checkout is the the number one reason for shopping cart abandonment.
Checkout for WooCommerce helps customers feel informed and in-control of their purchase experience by showing them total costs early in their checkout, before payment information is requested. We help build trust with your customers.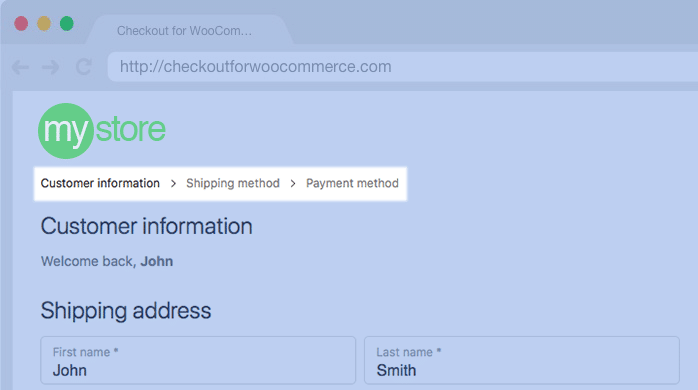 Simplified checkout
According to research, nearly 30% of online shoppers will abandon checkout forms that are too long or complicated. 
Checkout for WooCommerce breaks the checkout process up into three discrete steps, that keep users focused on one category of information at a time. This reduces the chance for confusion or form fatigue, helping customers to complete their purchases more often.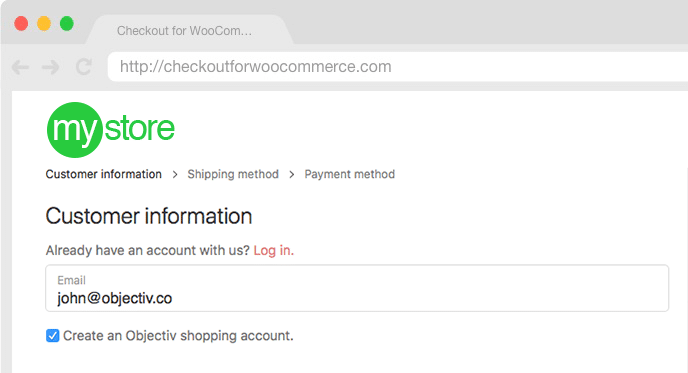 Optimized account creation process
Forcing users to register for an account and choose a password during checkout can cause 35% or more to abandon their cart. 
Checkout for WooCommerce streamlines this by allowing customers to create an account without any additional information. Once checkout is submitted, they will get an email with information about their new account.
If a customer already has an account, we offer them the chance to login but customers should always be able to checkout as a guest if possible.

Automagically helpful
We help your customers succeed wherever we can. Here are just a few more things we can do:
Auto-populate city and state fields based on postal code.
Save all field inputs in local browser cache. Refresh? No problem. 
Instant field validation. No more surprises.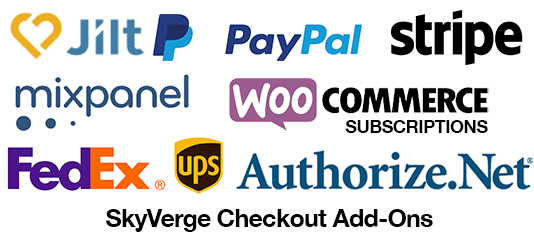 Start boosting sales today, risk-free
Try Checkout for WooCommerce for 7 days for free. Every product we sell comes with a 45 day money back guarantee.
Startup
$129
One Install
1 Year of Updates
1 Year of Support
7 Day Free Trial
Most Popular!
Growth
$199
Up to 5 Installs
1 Year of Updates
1 Year of Support
7 Day Free Trial
Agency
$499
Up to 25 Installs
1 Year of Updates
1 Year of Priority Support
7 Day Free Trial