Are you ready to set up an online retail store?
Perhaps you're interested in offering an online-only ecommerce store, or maybe, like many brick and mortar stores over the pandemic, a shift to online retail is a great way to keep going through local restrictions.
Once you've made the decision to set up online, you're then faced with a number of other choices. First, how are you going to set it up? Which platform will you use?
We love WooCommerce (that's why we work with it), because it gives you a lot of flexibility for online retail stores. Here's why it's a great choice and how to get set up:
Why choose WooCommerce?
WooCommerce is a free plugin that you add to a WordPress website in order to give it ecommerce functionality. That means WordPress has to be part of this discussion too, as you could choose to go with a different platform.
What are the advantages of WordPress and WooCommerce for online retail? Here are just a few:
Both are free and open-source, meaning the coding is accessible for customization.
WordPress is the most popular website builder out there, meaning there are a lot of stores using it and there is widespread support available from WP experts.
WooCommerce can work with any up-to-date design or theme you are using on a current WordPress site.
There are thousands of WordPress themes available, meaning that if you don't want to custom code, you're bound to find a look that you like.
You can choose to customize WooCommerce checkout too, or purchase an optimized WooCommerce checkout tool such as CheckoutWC.
There are countless plugins and extensions available that can provide you with any functionality you can think of.
WooCommerce is well-supported and regularly updated to keep it safe.
Both WordPress and WooCommerce can be learned by users who don't know coding (although you may need to get help if you need anything custom).
The bottom line is that WordPress with WooCommerce can provide you with everything you will need to run a successful online store. You can set it up to sell physical products, digital products, business services and more.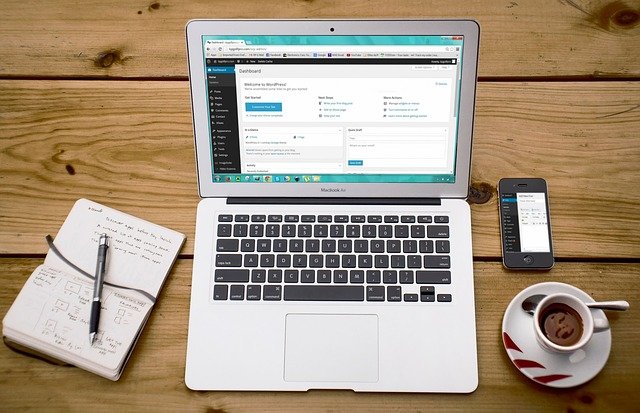 WordPress + WooCommerce = A flexible platform for ecommerce
Click To Tweet
How do you get started with WordPress and WooCommerce?
We're going to break this down into simple steps so that anyone who is looking into WordPress with WooCommerce for the first time has a roadmap:
Step #1: Get your domain name and web hosting
If you don't already own the domain (web address) that you want to sell from, purchasing it is your first step. To do this, you can go to any of a number of domain providers, such as GoDaddy, Namecheap, Bluehost or Dreamhost.
Hosting is how you get your website online. A host stores your website on their servers and serves it up to anyone who wants to visit it. There are thousands of different choices of third-party hosts out there. Companies with the budget and need can also host on their own servers.
Most new ecommerce stores will look for a third-party host, in which case we recommend choosing one that specializes in supporting WordPress websites. An advantage of this is simply being able to get good help if you need it. Not all hosts have the expertise in WordPress. This page lists some hosts that WP recommends.
Step #2: Install WordPress
Depending on your choices for hosting, you may have to do this yourself, or it can be part of your hosting package. Most hosts make it simple to install WordPress as it is such a popular platform. There will usually be something like an 'install WordPress" feature under your website tools.
Step #3: Install WooCommerce
Once you have WordPress installed, you're able to navigate to Plugins > Add New on your WordPress dashboard. Type WooCommerce in the search field and you'll see the plugin pop up in the results. Click "install now" to add it. You'll then need to click "activate" on the plugin.
Once the plugin is activated, WooCommerce will appear on the left-hand menu of your WP dashboard. You'll need to click into it to go through a guided setup where you add your store details.
#4. Choose a theme
One of your setup choices in WooCommerce is to choose a theme. Themes dictate the look of WooCommerce (or WordPress). If you've chosen a theme already in WordPress, WooCommerce works with any theme by default (although that doesn't mean it is optimized to operate at its best).
Another option is to choose a WooCommerce-optimized theme, which you can find either in the WooCommerce theme store, or on a third-party site such as Themeforest.
The official WooCommerce theme is Storefront, which is designed to work well for WooCommerce in the first place. It provides a simple, clean design, but you have the opportunity to customize it for your own unique look.
#5. Set up payment gateway(s) shipping and taxes
Under Settings > Payments in your WooCommerce store you'll need to set up a method for customers to pay you. There are many options, but it's important to consider a couple of key things:
Customers prefer to be offered payment options – in fact, lack of options can be a reason for an abandoned cart. Choose some commonly-used options.
Different payment gateways have different fees attached for processing transactions. You'll want to look into that too, as it can factor into how you need to price your goods and services.
Find the mix that works for you and for your customers. You can check out our quick guide to payment gateways here.
In order to charge sales tax (required in most states), you'll need to go to your Settings > General and check the box that says "enable tax rates and calculations." You then configure the currency.
From there, go to Settings > Tax to configure taxes. It's important to note that even if you choose WooCommerce's options such as "calculate tax based on customer shipping address" , you still need to check on the current taxation rules for your area. Sales taxes vary state-by-state and county-by-county within states.
Next, go to Settings > Shipping to configure your shipping options. Note there are some great shipping software options with extensions available for WooCommerce that are worth checking out. One key to success in online retail is to automate as much as possible and keep a very smooth process.
Step #6. Build your store
Every website needs pages, so these are the logical place to start for building your store. Basics include the home page, about page and contact page. In online retail, you need to consider what customers will look for to ensure that they trust you – adding pages such as "policies" and "FAQs" can help (people want to know about returns and privacy).
Once you have pages, you can add products. A simple way of doing this is to navigate to Products > Add new, then follow the onscreen setup.
Step #7. Optimize your store
Every ecommerce store needs to be optimized for conversions. This means taking steps to ensure that the user experience is as smooth as possible, encouraging visitors to add items to the cart and complete a purchase.
Multiple strategies can be used optimizing your store, including improving site speed, ensuring you have appealing copy, working on your UX design, and streamlining the checkout experience. Remember that WooCommerce at default settings is often not an optimal customer experience.
You also may need to add functionality via additional plugins. There is almost always something available for anything you need and if there isn't, a WP developer may be able to help. Look for extensions for things like managing email and capturing email addresses.
Final thoughts
WooCommerce is a great choice if you're setting up for online retail. For those brick and mortar stores needing an online presence, you will also find options to integrate curbside pickup for orders.
And if you need a simple solution for an optimized WooCommerce shopping cart? Take a look at CheckoutWC. You can access a free 7 day trial here.