Imagine a shopper checking her Twitter feed on her iPad before leaving the house to go to the mall. She sees a link to a coffee coupon code for Starbucks rewards members. The coupon is for a tall vanilla oat milk latte because Starbucks knows that is her favorite drink. At the mall, she redeems the coupon using her phone and buys a cookie and some coffee beans. She spent $20 with Starbucks that day that she would not have otherwise.
Or consider a fashion brand that creates an app and social network for shoppers, backed up by email marketing and ad retargeting to keep customers engaged on their journey with the brand. They also build a rewards program to disincentivize members to "shop around." They create ads with hashtags for NY fashion week that run online and on electronic billboards at strategic locations in the city during that time. This omnichannel campaign reinforces the A-list ethos their followers enjoy by associating with their brand on social media.
Those are just two examples out of the almost infinite possibilities of omnichannel marketing that is quickly becoming the make-or-break strategy for eCommerce companies.
What is Omnichannel Marketing?
In its simplest terms, omnichannel marketing uses marketing and technology to create a seamless, personalized brand ecosystem for customers across different channels and devices. An omnichannel strategy is not just online, either. It bridges the gap between brick and mortar, eCommerce, and multiple devices to create a seamless customer journey for shoppers.
Omnichannel marketing uses marketing and technology to create a seamless, personalized brand ecosystem for customers across different channels and devices.
Click To Tweet
Multi-channel marketing is the old way of treating each channel separately, with its own goals and strategies centered on the brand message. This can lead to confusion and frustration for the customer if they perceive mixed messages or lose functionality across different devices and channels. Multi-channel messaging tends to be generic and one-dimensional across channels. One way to think about it is the multi-channel experience feels more rigid and top-down, less like an ecosystem.
Omnichannel marketing integrates multiple channels into an interconnected strategy. Instead of prioritizing the brand, omnichannel puts the customer's experience while interacting with the brand at the heart of the strategy. The brand messaging adapts to channel differences and customer personalization.
Why Omnichannel Marketing is Important
After the 2020 pandemic spike, eCommerce continues to grow both in total and as a percentage of all retail sales. eMarketer projections include double-digit eCommerce sales growth in the US, from 11% of total retail sales in 2019 to 23.6% in 2025 at $1.65 trillion in sales.
The border between online and brick-and-mortar is blurring, as click-and-collect purchases (where customers purchase online and pick up the item in person) will reach $140.96 billion in sales by 2024.
At the same time, consumers are embracing shopping from social apps. Social commerce (selling products and services on social media) will reach $604.5 billion by 2027. This points to the necessity to provide a consistent customer experience across channels to keep customers happy.
Omnichannel marketing is essential because nearly 80% of American consumers say that speed, convenience, helpful employees, friendly service, and easy payment are what they want today.
eCommerce is very competitive; customers can, and do, click away quickly if they aren't happy. 32% say they will abandon a favorite brand after just one bad experience. Creating a brand ecosystem that keeps clients happy from first engagement to purchase is critical.
One way customers define convenience is the ability to complete a transaction across platforms. As a result, many eCommerce companies are adapting. In 2020, the number of companies investing in the omnichannel experience jumped from 20% to more than 80%.
Benefits of an Omnichannel Marketing Strategy
Customers respond to omnichannel ecosystems with higher engagement and more sales. One study showed that campaigns with at least three channels posted a 19% engagement rate versus single-channel campaigns at 5.4%. In addition, omnichannel campaigns that include SMS (short messaging service) were 48% more likely to end in a conversion.
Purchasing rates are also impressive. Omnichannel campaigns performed at a 12% purchase rate vs. 3.2% for a single channel. Customers also spend 13% more with omnichannel campaigns relative to a single-channel campaign.
Customer churn in eCommerce is a constant challenge and by itself makes a compelling case for omnichannel campaigns. Omnichannel marketing campaigns produce a whopping 90% higher retention rate than those using single-channel campaigns.
The luxury brand Net-a-Porter shows an example of the efficacy of an omnichannel ecosystem. Existing customers who subscribe to Porter spend up to 24% more, with an 86% average increase in orders.
Omnichannel Marketing Resources
As we've seen, omnichannel marketing is becoming essential for eCommerce success. But how do you get started?
Conceptually, one way to think about the omnichannel experience is to look for ways to limit friction. Typical customer friction areas may include initial contact, accessing products and information, and changing devices or channel platforms during the customer journey. eCommerce companies need a customer service solution that addresses each potential friction point.
Secondly, companies want to consider how to personalize touchpoints for the customer and make them appropriate to the channel. Facebook has a little different tone than TikTok. A text to a new customer should have a different tone than one to a long-time fan.
There are different tools to consider for each stage.
Getting started with an omnichannel strategy depends upon your goals and budget.
Start with the basics and build out from there. Experts recommend a minimum of three channels to see benefits from omnichannel marketing. Here are some steps to get you started:
Step One: Secure support and buy-in from your whole team, not just marketing. The omnichannel approach requires cooperation and resources from the entire team.
Step Two: Analyze your existing customer data to identify your starting place.
Step Three: You probably already know your target audience, right? If not, confirm who you are targeting. Based on their online behavior, choose a minimum of three relevant channels to create the Omnichannel ecosystem. Different channels include email, SMS, web push notifications, social media platforms like Instagram, Facebook, Twitter, TikTok, Snapchat, LinkedIn.
Step Two: Scope out the customer journey for your omnichannel strategy. Use visuals to help the entire team "see" the strategy implications from the customer's point of view.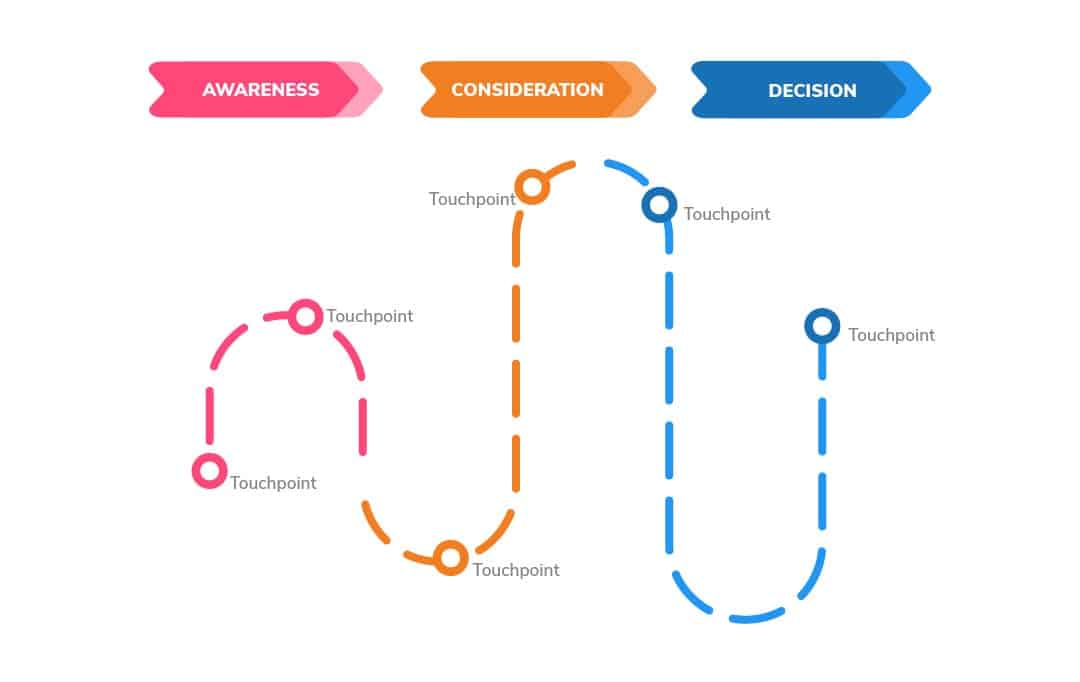 Image credit
Step Three: create guidelines and a plan for content for different stages in the customer journey. For example, you don't want to send reminder emails or SMS to someone who has already purchased the item. You can segment customers using tags based on campaign data or purchase behavior. Likewise, for awareness and engagement content, you want a plan that reflects the differences of each channel. For example, a post for TikTok will have a more informal tone than one for LinkedIn.
Step Four: Integrate your CRM into the customer journey to help you segment and personalize the customer experience.
Step Five: As we've seen, keeping customers happy is job one to achieve eCommerce sales growth. A smart strategy optimizes customer service so that consumers accessing help have a seamless experience. Artificial Intelligence enabled automation, backed up by friendly, knowledgeable agents, is vital to converting prospects into customers. It also helps prevent existing customers from switching over to other brands.
Step Six: Set up a testing framework to see what's working and improve on it. For example, you can use A/B testing for best practices with emails to different lists and ads for different campaigns.
Creating an affordable strategy is important, especially in the first stages. Lower-cost tools include Google ads, rewards programs, Google shopping, email and affiliate marketing, basic customer service, and organic social media. Higher-cost methods include paid search, Google search, paid Google shopping, display ads, social media ads, video ads, print advertising.
Whether integrating CRM or tracking analytics, WooCommerce has many resources to help eCommerce companies implement an omnichannel marketing strategy.
The Path to Omnichannel Marketing Success
eCommerce is continuing to grow and become the preferred way consumers shop. At the same time, the marketplace is rapidly evolving into a fragmented landscape of different channels, platforms, and devices. Attracting an audience to an omnichannel ecosystem, keeping them engaged and converting them into customers is no small feat, yet it is the way of the future for eCommerce.
We've gone over many tips in this post; please let us know if you have questions. You can also check out this free resource if you are interested in supercharging your WooCommerce conversion rates.