Is email marketing for you? Should your ecommerce business still be communicating with customers via email?
These are some of the pressing questions for businesses that need to stretch marketing budgets and make the most of the customers they already have. Email is great because it's a low cost channel with the ability to reach a large number of people – as long as you build a list!
On the other hand, a glance at your own inbox probably reveals one of the major challenges with email: people are bombarded with messages. Inboxes are often in such an overwhelmed state that people miss messages altogether.
One of the core questions for ecommerce businesses is, can you still cut through the noise with email? Can you get results that justify continuing with it as a marketing channel? Here's what we've found: 
The state of email marketing
First of all, what's happening in email land these days? According to HubSpot, email remains an excellent channel for marketing ROI, generating $42 for every $1 spent. Despite the predictions of many pundits, email is far from dead. Four billion people use email daily and that figure is expected to climb to 4.6 billion by 2025.
How effective are emails? That of course depends upon your own strategies, but across all industries, the average open rate is around 19.8%, click through rates average 11.3%, and bounce rates average 9.4%. 
In the ecommerce space, 60% of businesses that use email marketing personalize emails based on past purchases. This tends to help with open rates and with engaging customers since the email is tailored to them.
Most email users check their inboxes daily, with a large chunk doing so first thing in the morning. For ecommerce and other business owners, email remains one of the most cost-effective marketing methods – the challenge is developing strategies that get your emails noticed.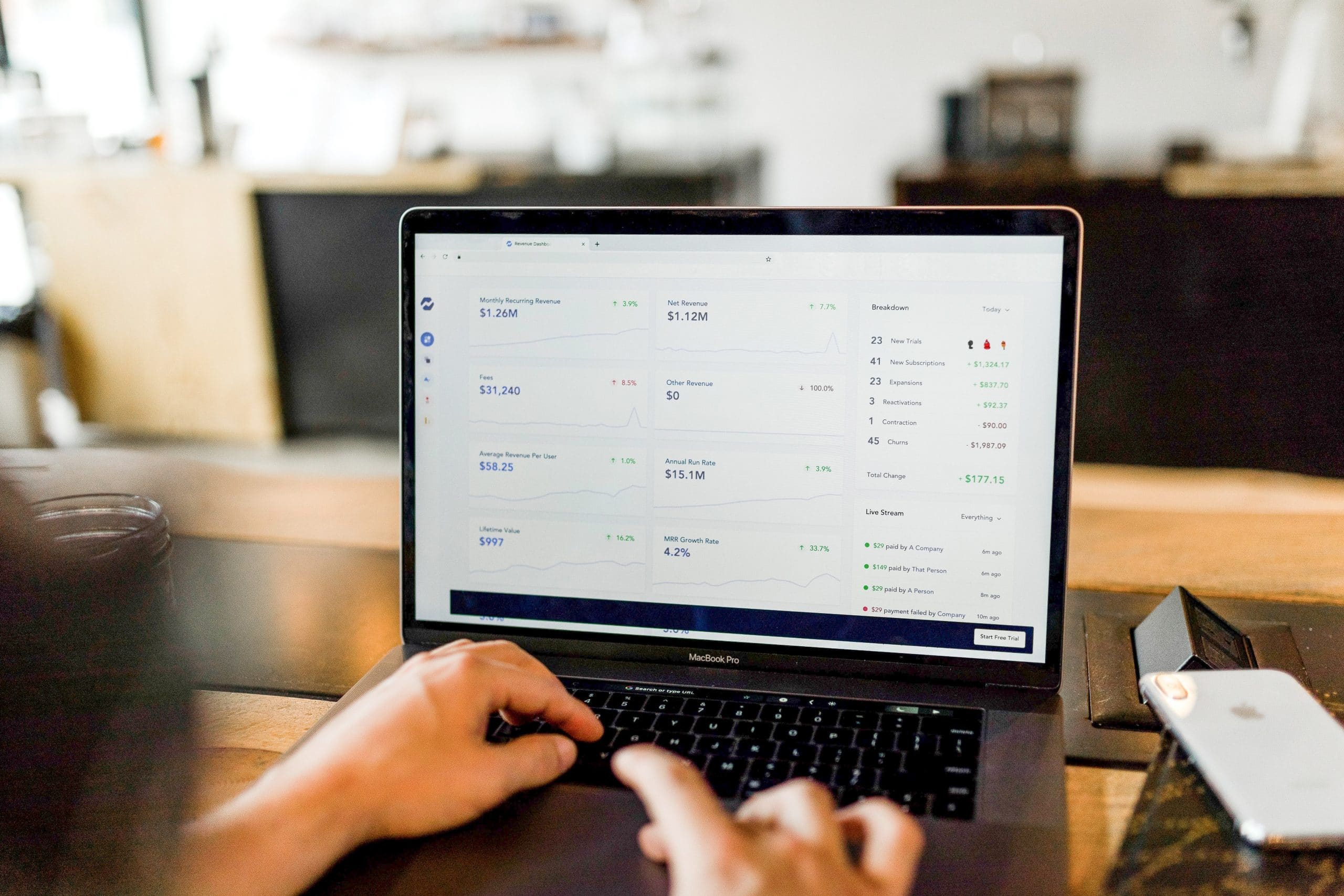 Email marketing maintains excellent ROI at around 4200%
Click To Tweet
Why use email marketing?
While many marketers fear that email marketing may no longer be effective, email actually experienced something of a renaissance over the course of the COVID-19 pandemic. All things digital took on a new level of importance for keeping businesses going, but email, with its ability to increase frequency or expand recipients without dramatically increasing marketing expenses, has had a pivotal role.
Ecommerce businesses should use email marketing because it's an inexpensive way to nurture potential new customers who sign up to your list and engage with your current customers. As the conventional wisdom goes, it's cheaper to hang onto your old customers rather than having to constantly seek out new ones.
Email offers you the opportunity to be recognizable. We're in the habit of ordering goods and services online now, and it's not uncommon to forget companies we've ordered from before. If you follow a program of regular emails, it will help your business to develop some brand recognition among subscribers. The hope is that when they next need a product you sell, your company will be top of mind.
If your business can get even an average 11% click through rate, you're going to add significantly to your revenue. As long as you have a decent list to market to and follow some robust strategies, you should see results.
Tips for ecommerce email marketing
What does it take to succeed with email marketing for ecommerce owners? Here are some of our tips:
Keep building your email list
You've got to have a list of subscribers who have opted in to your list in order to send out emails. The first thing ecommerce owners should check on is that you're growing your list with more people who are a good match for your business. It might sound a bit obvious, but many businesses let list growth slip out of sight over time.
List building strategy means you need to have a reliable, simple mechanism for getting people onto your list. It's not just for people who made a purchase already, but for those who may be interested in buying in the future. 
Consider two things:
Who is my ideal customer?

What's in it for them if they sign up to my email list?
Your website should offer a signup form with some kind of incentive to encourage subscribers – but not just anyone, people who are a target customer for your business. Don't forget to also capture the email addresses of people who buy. 
Use an email management system that allows you to tag people separately on your email list. For example, you might have a "prospect" tag for people on your list who have never purchased, and a "buyer" tag for people who have. You'd want the tag to change automatically for a prospect who becomes a buyer. This allows you to segment your communications and target them more effectively.
If you're a WooCommerce user, you can pretty much have your pick of email management systems and associated sign up forms. WooCommerce integrates with most of the popular options, including MailChimp, OptinMonster, Mail Poet, and more.
Determine a funnel strategy
You may have heard of the sales funnel – a model of the journey of customer sales that shows each step, from awareness of your brand to making a purchase. Shopify depicted an example for ecommerce sales in the diagram below: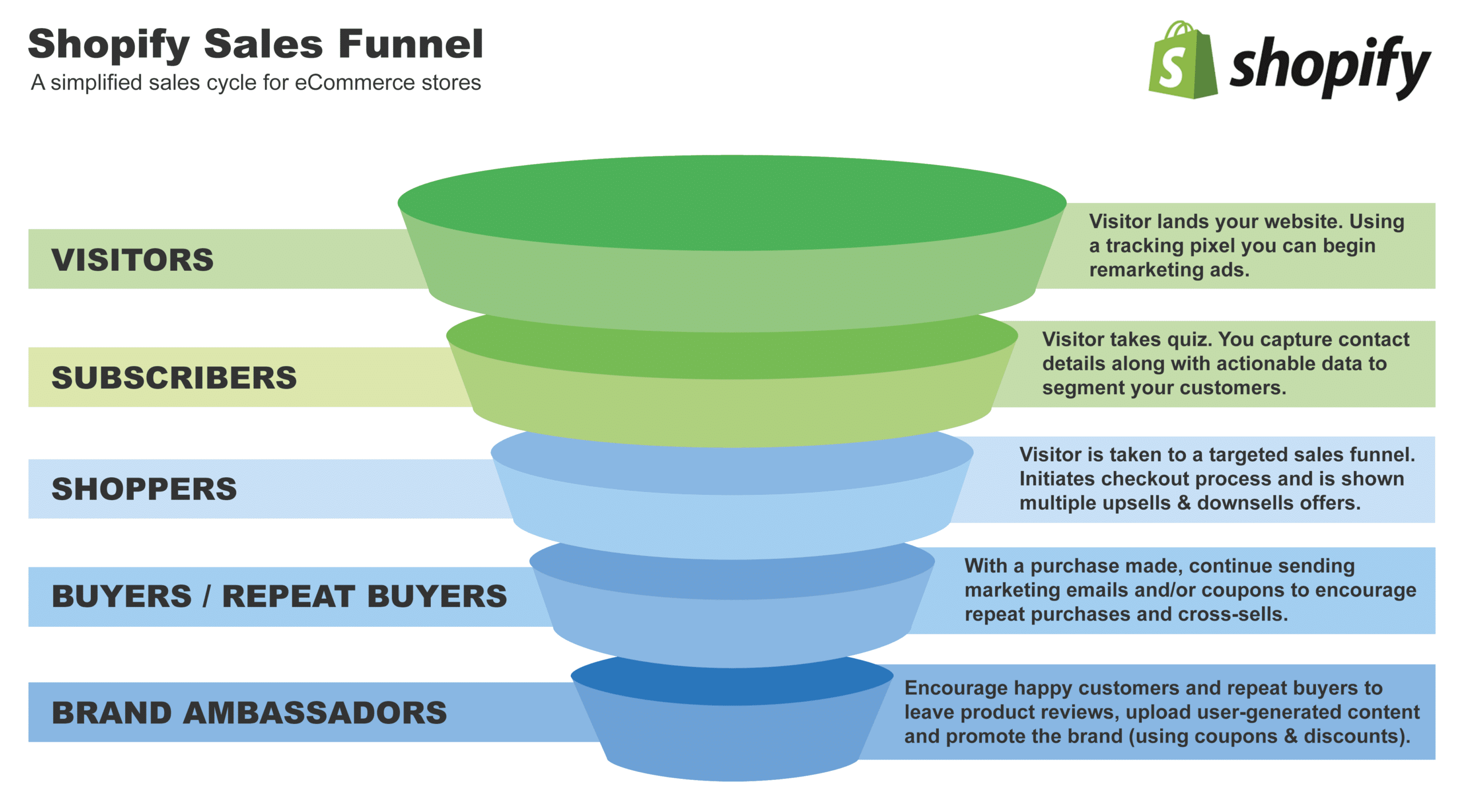 You'll have people who are subscribers, people who are actively looking, and people who are already buyers on your email list. You can use email to strategically move people through your funnel – even to the point of becoming brand ambassadors – if you're clear about what your funnel looks like.
The idea is that you should target emails to your list based on the stage of the funnel that the subscriber is at. This way, your emails will be more relevant to the person and more engaging. A good place to start is by mapping out your funnel. This means defining each stage and determining what customer interests or goals are at each step. Send emails based on the path people take to deliver maximum value.
Leverage welcome emails
Did you know that welcome emails tend to get three times the engagement and revenue per email than other types of promotional emails? You can put them to good use in making a first impression upon subscribers.
Ecommerce brands doing a great job with welcome emails tend to use them to share their "voice" with subscribers and offer something of value. Bland copy gets overlooked, but if you can create an email that reflects your brand voice and aesthetic, you can grab customer attention. Of course, it doesn't hurt to offer some sort of incentive with that email too, such as a discount on the first order they place.
One tip is to keep it simple. Calls to action should be straightforward and take them to a page that is clear. An overwhelming number of options can be too much for subscribers to deal with. Offer easy navigation and clear menus, with helpful ways for them to narrow down to what they need.
Keep a regular email cadence
Some of the data HubSpot uncovered revealed that B2C brands get higher open rates when they send no more than 5 marketing emails per week. On the other hand, when businesses send too few emails, they often remain unopened because people forget who they are.
Your business should aim for a sweet spot, but the exact definition of what that looks like will vary. It's worth testing email cadence to see what gets you the best results. In any case, sending one or two emails per week should be your absolute minimum to maintain recognition.
Use abandoned cart emails
Abandoned carts are the bane of ecommerce stores. They're very common and represent a huge amount of missed potential revenue each year. The good news is that email can be successfully deployed to capture some of that revenue.
Abandoned cart email sequences are a series of emails designed to encourage the customer to come back and finish their purchase. Some data suggests that if you use abandoned cart emails, you'll be successful at winning the order 10-15% of the time. 
When you consider that somewhere around 70% of online shopping sessions get abandoned at the cart, even just a 10% recovery rate leaves you in a much better position. Look at your average order price – how could recovering abandoned carts grow your bottom line?
If you use CheckoutWC to optimize your WooCommerce checkout, you can use our integrations with options for abandoned cart software, such as Metorik and Active Campaign.
Conclusion
Email marketing is worth it for ecommerce businesses, as long as you take a strategic approach. Know who your target customer is and keep building your list, targeting those people. Map out your funnel and personalize your approach so that people receive emails that are relevant to them.
Finally, try to keep your emails interesting! If you understand your customer well, you should be able to deliver value with each email you send. Craft messages that people want to open and you'll find your way through the inbox noise.