How can you boost sales in your ecommerce store?
This is generally the $64 million question for merchants and there's no one "right" answer. Ecommerce success is a combination of factors, from the right products and services, to the right marketing, to an optimal website experience for your customers.
If having great products is the first priority on the list, then website optimization should be the second. You can spend a lot of money on marketing and driving traffic to your website, only to find that people leave without buying if their experience on your site sucks.
One area that is often ripe for change on ecommerce sites is the checkout process. Your checkout flow should be designed to encourage customers to complete the process. If you're getting large numbers dropping out at the checkout, it's time to look into their experience. Here's what you should know:
The checkout flow and why it matters
The average online shopping cart abandonment rate clocks in at 69.82% – ouch. Now, you're never going to prevent all cart abandonment. That's just not how it works. Sometimes people add items to their cart as they browse, but they don't yet have the intent to buy. That's something that will always impact your abandonment statistics.
However, do you get shoppers starting the checkout process only to abandon part-way through? If you get a lot of this behavior, there's a good chance that something about your checkout process is turning people off.
The checkout flow can be one of those reasons. Checkout flow describes the steps a person must take to checkout and how they take those steps. For example, you can have one, continuous form that they must fill out, or you can implement a multi-step checkout that takes them through each stage one-by-one.
Your checkout flow matters because it's a known barrier that can lead to cart abandonment. Among the top reasons given by customers for abandoning the cart include things like "the site wanted me to create an account," "too long/complicated checkout process," and "I couldn't see or calculate the total cost of my order up front."
In fact, most of the reasons given for abandoned carts are within your control to do something about. Optimizing your checkout flow should be one of those.
Poor checkout flow is a common reason for cart abandonment.
Click To Tweet
WooCommerce's default checkout flow
We'll start out by acknowledging that you're going to want to customize the default WooCommerce checkout flow. Why? Because it isn't optimized for conversions. It has some solid features, just not necessarily presented as you need them to be for your customer experience.
To begin with, WooCommerce's default tends to be heavy on the form fields. There are separate fields for almost everything, and some of those may even be unclear in terms of their relevance. Customers can feel overwhelmed by the number of fields.
There is also a lack of automated input for form fields in the default version, meaning the customer can feel like they're constantly filling out forms. Small automations, such as auto-populating an address can help to smooth the process.
The default version also allows little room for explanation. Sometimes you need to collect certain information (such as a phone number), but customers may be unwilling to simply hand that information over. They want to know why you're collecting it, so room to explain is important.
Another factor that can present a roadblock is the positioning of the account creation function. The default WooCommerce flow doesn't force account creation to checkout, but it does offer account sign in or creation in a position that causes the customer to have to pause and evaluate. Some may mistakenly think that they must have an account to check out, which could cost you customers.
How can you improve checkout flow?
There are several possible strategies for making improvements to your current checkout flow, especially if you've got WooCommerce's default settings, or similar. One thing to note is that as with all website optimization, some things make a big impact for some merchants, while only a little impact for others. There's definitely a case for some trial and error, preferably including some A/B testing to check on the impact of any changes.
Here are some suggestions for improving checkout flow:
Make it multi-step
When customers are presented with one long form, it can seem a daunting task to fill everything out. Single form checkouts can give the appearance of being long or complicated, even if they're really not.
A multi-step checkout helps to break down the required form fields into simplified blocks. It's even better if your customers can see their progress, such as in the screenshot below. You can see a progress line at the top, showing them which step of the checkout process they are on.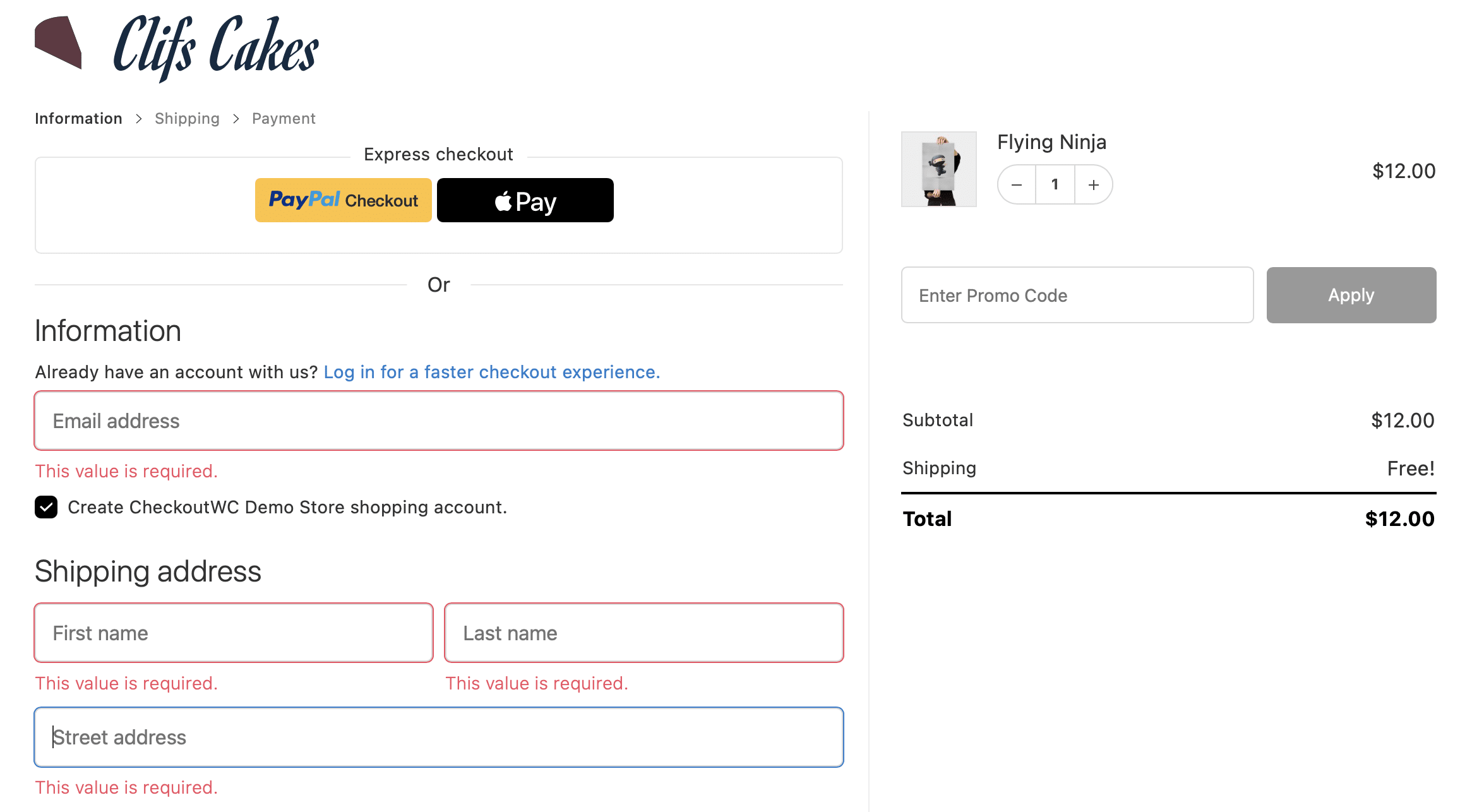 Only collect the information you really need
There can be a temptation to gather as much data as possible from customers so that you can use it later, but that's not a good idea during your checkout process. Simplify it down to only what you really need. Don't need a phone number? Don't ask for one! And if you do need it, offer an explanation as to what it's for so customers feel comfortable.
Make sure it's logical
The flow of your checkout should be a logical process, with step B following step A. One illogical example can be found on WooCommerce's default option, where they ask for billing address ahead of shipping address. Most customers would expect to give their shipping address first. Examine your checkout flow for anything that might be out of order. A third-party who has no stake in your business may be a good place to start so that you get the view of someone without inside knowledge.
Auto populate information
Customers like quick, efficient checkout processes. You can help them out by auto populating information wherever possible. One example is when people type in their ZIP code, you can have the city and state auto-populated into their fields.
Another example is address. When you use geolocation features, you can have an auto-suggestion for the customer's address as they start typing, saving them from filling in multiple fields. Here's an example below:

Offer account creation after checkout
Throwing account creation at the start or somewhere in the middle of your checkout flow just puts a potential roadblock in place. Even if account creation is not required for checkout, you'll still make customers pause and wonder if they need one to keep going. 
Instead, offer account creation after they've completed checkout. They can take it or leave it then, without worrying that it impacts their ability to complete their purchase. You might even offer some sort of incentive, for example, "create your account with us now and get 15% off your next order."
Conclusion
Your checkout flow describes the order of operations that a customer must go through to complete a purchase on your website. This process is one of the most common areas where ecommerce merchants lose customers, particularly if the checkout flow isn't optimized for the customer experience.
An optimized checkout flow feels simple and quick for the customer. They understand where they are in the process and what is required. Automations help to reduce the form fields they need to fill out.
CheckoutWC offers an optimized checkout flow for WooCommerce. Avoid the pitfalls of the default version and install a great customer experience out-of-the-box. Take a look here at how we can help you.