When we started CheckoutWC, our goal was to provide checkout optimization for WooCommerce in a package that is simple for merchants to deploy on their websites.

That mission still holds true today, as we bring some of the best features from various SaaS ecommerce platforms to the WooCommerce stage.

Why? Because checkout optimization is often where ecommerce sites fall over. The average abandoned cart rate sits at just under 70%, and while many factors go into why customers abandon the cart, a sub-optimal checkout experience ranks up there.

If we take WooCommerce as an example, it's a great platform for ecommerce stores, offering merchants a ton of flexibility. However, if you install it out of the box, there are several aspects of the checkout that are not optimal for the customer experience.
Is your checkout set for 2023?
What is checkout optimization?
If we were to sum up checkout optimization in a few words, it would be removing friction from the customer experience. Every single click, scroll, form field or instruction is a potential roadblock where a customer might choose to abandon the cart. You've got to create an intentional experience.

The ultimate goal of checkout optimization is to improve ecommerce conversion rates. To achieve this, you need to minimize distractions and take care of common issues that lead to cart abandonment. These include surprise fees (such as the cost of shipping), being forced to create an account to checkout, a slow checkout process, and more.
Has much changed with checkout optimization?
One thing we encourage all ecommerce merchants to consider is that checkout optimization isn't something you do once. If you want to ensure your shopping experience remains optimized, you need to keep up with changes and updates.

As technology has evolved, so have the realms of what is possible for checkout optimization. It may be small things at a time, but those factors can all add up to a big deal for the overall customer experience.

We can speak from the perspective of CheckoutWC and some of the changes that have been implemented in just the last year, including:

– Local pick-up options. This has been a huge area of demand since the pandemic and if it makes sense for your business, may be an important feature to have.
– Simplified options to edit the cart on mobile screens, including removing items from the cart.
– Order bumps. A simple way to upsell or cross-sell in the cart.
– Displaying trust badges horizontally in the checkout.
– Side carts. This is where the sidebar is replaced with an eye-catching cart that appears on the page when customers add products.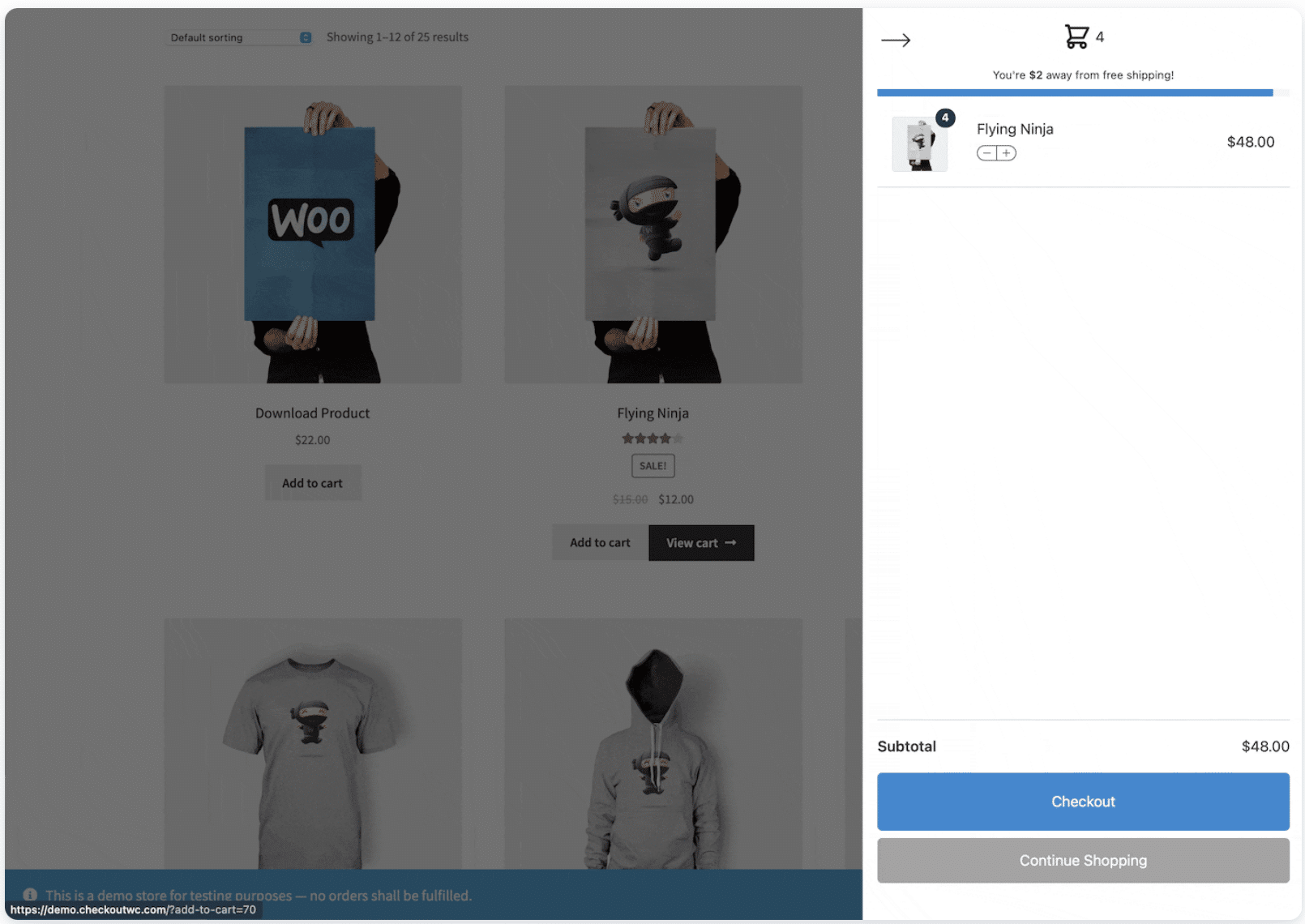 Principles of checkout optimization
Based on what customers say causes them to abandon the cart, there are some basic principles that hold true for checkout optimization. We suggest that merchants always prioritize these aspects, while including updated checkout technology where possible.

Those basics include:
Avoid surprising customers with extra costs
"Extra costs were too high" is the number one reason given for cart abandonment according to Baymard Institute studies. 48% of shoppers have abandoned the cart for this reason.

Those extra costs include things like shipping, taxes, and fees. People hate arriving at the cart unaware of what those costs will be. In fact, 75% of shoppers globally are influenced by free shipping as a factor in their purchase decision. Ecommerce giants such as Amazon have conditioned people to expect free shipping, so expectations of ecommerce stores are high.

Do you have to always offer free shipping? Not necessarily, but it definitely helps. You can find ways around it such as stating "free shipping on orders over $40." This can help you to increase your average order values too, as people often add something extra to meet the minimum for free shipping.

It's also worth noting that you can find other ways to set your business apart, even if you do need to charge for shipping. 80% of customers say they're willing to pay more for better service, which can be your opportunity to stand out.

The bottom line is, whatever you need to charge for the products you sell, keep all costs transparent and upfront. If you always charge for shipping, look into whether a flat rate will work. If customers see "$9.99 shipping on all orders," at least they know before they get to the cart. It may even encourage them to order more items to make it worthwhile.
Allow guest checkout
The second-biggest reason customers give for abandoning the cart is that they were forced to sign in or create an account in order to checkout. This is a simple one – don't do it. Always offer guest checkout so that customers without accounts don't have that roadblock before they can check out.

What if your goal is to have more customers with accounts so you can continue to send them offers? Have an option to create an account after checkout. The first-time shopper has at this point already entered key details such as their name and email address, so offer a simple option to create an account using the details they've entered.
Clean up your checkout process
Customers hate it when the checkout process is too long or overly complicated. One mistake that many ecommerce stores still make is to ask for too much. You need a certain amount of information in order to be able to process a sale, but do you really need details such as the customer's date of birth, or a survey about their product interests?

Cut back form fields to the absolute basics and use autofill options where possible. For example, have the customer start to type their address, then get autofill suggestions based on their location.

It's also a good idea to show the customer where they're at in the checkout process. This helps to reassure them that they're almost done, and not on page one of twenty!

Give options for payment and shipping

"Shipping was too slow" and "they didn't offer my preferred payment option" are also reasons customers give for cart abandonment. While you can't always help issues that crop up with shipping suppliers, you can offer customers options to pay for expedited shipping, just in case they really need a product quickly.

On the payment side, at least offering a selection of the common popular options is a good idea. These might include:
– Debit and credit cards.
– Shopping apps like ShopPay and PayPal.
– Digital wallets such as Apple Pay and Venmo.
– Buy now, pay later options such as Affirm or Afterpay.
Display reasons to trust you
When a customer who has never shopped with you before arrives on your website, they're looking for why they should trust you. "I didn't trust the website with my credit card information" is the fourth most common reason given for cart abandonment.

Display trust badges such as certifications and secure checkout badges in the checkout. They help to give your brand legitimacy and communicate the message that customers can trust you.
Final thoughts
Checkout optimization is an essential part of owning an ecommerce store. That is, if you want to maximize your chances of getting customers to buy!

Your goal should be to minimize potential friction in the checkout process so that you encourage more customers to follow through to the end.

CheckoutWC is here to help WooCommerce merchants. Our optimized checkout for WooCommerce smooths the process for customers and helps to boost your conversion rates. Check us out here.